The Miracle Of LOVE
I believe in the miracles of life.  I believe that each and every day, if we pay attention, we will notice that we are experiencing miracles all the time.  Maybe there is a tendency to discount them, because they are more on the 'ordinary' side of things.
A chance meeting; an eye opening conversation with a friend; a loving email or facebook post.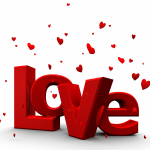 How do you define what a miracle is?
My first book, The Miracle That Is Your Life….addressed this very topic.
However, as we rapidly approach Valentine's Day, I've been reflecting on the power, magic and miracles that come from a place of love.
I'm not necessarily talking about a love relationship, although those can be very magical and miraculous.  In fact, I believe in every fiber of our being that each and every one of us can have a MIRACULOUS, loving relationship.  Maybe you already do!
But I'm thinking more about the power of love.  When we FEEL love within us, without any outside influence.  When we give our love to another, without any expectation of it being returned.  When we experience the magic of life, as we spread our love amongst those we come in contact with.  And, of course, the miracles of receiving love and all of the blessings, when we open our hearts to receive.
Valentine's Day, for many…is a very special day.  I know, for me, EVERY day is love day.  I've come to value and appreciate the power of feeling and expressing love in many different ways.
And I also know, for many, that Valentine's Day can be lonely, even painful.
If this describes you….I'm sending you OCEANS of love your way.  I hope you open your heart and allow the love that is waiting and always available to you, to pour in and throughout your body.  Breathe it.  Feel it!
And if you, or someone you care about…is single and wants a relationship, please join me for my next ATTRACT LOVE NOW Retreat, February 27th in Carlsbad, CA.  And, I have a special offer THROUGH Valentine's Day…I've reduced the price and you can bring a friend for FREE!!  However, after Valentine's Day, the price will go back up.
If this is you, I hope you join me.  If this is for someone you care about…I hope you send the information about the retreat.  My Miraculous Loving Method not only SOLVES the mystery of the invisible layer that keeps love away….we RESOLVE it!
And regardless…I hope your Valentine's Day…and every day is filled with the miracles love provides!
Enjoy!